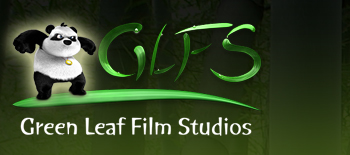 The game and film industry in China isn't so little anymore. Here, the business of digital content for games and films moves like the big red machine that it is, and they've got the green light… or is it 'leaf'?
Last month, I got in touch with my good friend Ken Liu, a school/work colleague and former 3D character modeler at EA, who is currently living in Beijing, and exploring the surging opportunities in the game and film industries. He brought to my attention one particular studio that he expected for massive growth in many areas of digital production: Green Leaf Film Studios, which is based in Chengdu, Sichuan Province, of the Peoples Republic of China.
Curious, I decided to look into them, and I would soon become a believer as well.
Green Leaf Film Studios had just recently finished their Exceptional Exhibition – Weta Workshop Introduces the World of Dr Grordbort's (event website). The museum premiere was spearheaded by renowned five time Academy Award winner Richard Taylor, who donated all profits to relief efforts for the 2008 earthquake in Sichuan province.
According to their website, Green Leaf Film Studios is a multi-focused 3D animation and CG film studio established in 2009, they also make references to 3D games. Their mascot is a CG Panda. Pandas are unique to Sichuan province, which is also famous for its' silk (I know at least that much because my family currently hosts an international student from Chengdu, I got my silk and panda swag to prove it).
Green Leaf's website (click here) clearly shows a strong relationship with New Zealand's world renowned WETA Workshop and Digital FX studios. They are the guys and girls behind AVATAR, the Lord of the Rings, i-ROBOT, X-MEN: The Last Stand, Fantastic Four: Rise of the Silver Surfer, and King Kong to name several, click here to check them out.
The question is, how does this happen? There must be some troubles and challenges to overcome in order to reach this level of achievement, especially in – the not so little anymore – China, right? I don't see Jack Burton anywhere, who gets the job done?
Enter Gavin Crombie, Studio Head of Green Leaf Film Studios, CEO of IDFGlobal (their site), and a fellow 'Kiwi' to his Weta Digital counterparts.
Fortunately for me, my strong curiosity as to how he is able to lead such a large and ambitious studio in China with such confidence garnered me with an opportunity to ask him a few questions (I was almost half expecting a C&D, or perhaps a restraining order… never mind that).
What motivated you to choose the path that you are currently on, and what are your ambitions, goals, and dreams?
Hi Scott, I got onto the path I am on after working in China as a business consultant for 5 years, and coming across the opportunity to get into visualization – not being able to draw a straight line on a piece of paper, obviously I don't do the work – I understand how to make a business work and how to get good people on board.
For IDFGlobal our ambition and goals have always been clearly and unequivocally stated: "Be the best in the world, and be the biggest in the world".
I don't have any particular personal ambition other than to do things differently than other people, and particularly things that people say are impossible. We were told when we started the film studio that it was simply impossible – and after a year we are involved with a $400 million film fund in cooperation with a 5 time Oscar winner, and perhaps the second most successful producer ever.
Eventually I have a desire to spend the latter years of my life utilizing the resources we have accumulated to do some things in helping other people – particularly children in the world's worst areas.
How have you changed? Have your goals changed?
The goals have never changed, I have lost far too much hair for my liking – and got a lot fatter – but the vision is the same and the goals are the same.
What were some of the early challenges that you faced, and how did you overcome them?
Early challenges were technical: learning the industry, not having people take us seriously, solving he communication channels between China and the west, and having to live unbelievably frugally as all cash was poured into the business to get it going.
How did you make the most of your strengths, and how did you manage your weaknesses?
My main strength is tenacity and perseverance. I believe, so I simply never gave up. No matter what. For my weaknesses I should have checked myself into the Betty Ford clinic, but here I am, still drinking red wine (chuckles).
What systems did you use to improve efficiency/effectiveness, manage time/space, and to achieve milestones?
We created our own on-line management system. The first one we did in house, cost us $400K USD, 3 years of development, and was a total disaster – I had believed the people who were responsible knew what they were doing – alas that was not true.
The second one took 18 months and cost us $150K USD, and I managed the process myself. It was a roaring success, and it basically runs our extremely complex business. By creating a system that simplifies and collates every single business function across 30 offices and multiple currencies and languages, we are able to grow faster than normal – without the system we couldn't manage more than 5 offices I believe.
How have your systems changed?
With time comes depth of knowledge and experience – so you just learn the areas to avoid for the future when you make mistakes. Mistakes are your best friends by the way. Without mistakes you have no way of emotionally knowing what not to do, and more importantly, WHY!
How do you define failure and success?
Failure is simply letting circumstances beat you, no matter what happens the guy who gets up off the floor the most wins the fight. Failure is simply giving up in the face of opposition. Success is charting a course and sticking to it until you achieve it, "The world is not interested in the storms you encountered. Did you bring in the ship?"
Time and growth provide new challenges, what are some of the challenges that you look forward to today?
Getting the movie studio off the ground and becoming a world force in movies – this field is so exciting and gets me jumping out of bed like a rhinoceros every day.
What is/are the most important thing(s) you have learned during your experience?
Life is mostly froth and bubble. Two things stand like stone. Kindness in another's trouble. Courage in your own.
What are the most important things do you think a young entrepreneur should focus on?
Identify what you want to do. Learn everything you can about that area – but don't just think, act – jump in as soon as you can and learn as you go. Don't be afraid of anything, there is nothing that the world can do to you. Once set on your course stay the distance. You don't know if the race is 1500 metres or a marathon, and you won't know until you reach the finish line, so never, ever give up.
Who, and what do you attribute your achievements to? Why?
A number of things. When I was 17, I said I would read 2 books a week for the rest of my life – I still do to this day – so I have a lot of knowledge to draw on in there. Secondly I love looking at the lives of famous people and emulating them – (Winston) Churchill stands out among them – get his biography and read it several times and you will see how important it is to keep going.
Read as many things that you can get your hands on that edify or educate you – don't read trash unless you want to just chill out on the beach – read stuff that teaches you something, keep looking – keep learning, and most of all, keep a happy disposition.
There is only one journey in life – you are on it – if you don't enjoy it, then your life is worthless. You get given one gift in this world and one gift only – and that's the gift of life – no matter what circumstances you start off in life, you have this precious thing in your hands that you are allowed to do whatever you want with.
Gavin Crombie is the author of the best-selling business book "The Way of the Dragon: A Guide for Australians Doing Business in China", which is currently used in more than 15 MBA programs around the world as course material.
Click here to learn more about Gavin Crombie.