About Me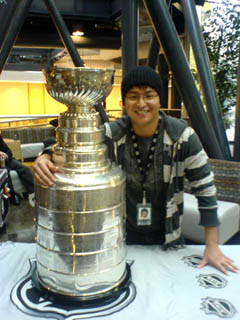 Summary: Life-long learner of everything I can get my hands on.
Professions: Technical Artist / Animator, Character Rigger, Digital Media Developer, Website Designer / Developer, Graphic Artist, Scripting Monkey, Business to Business Marketing Representative, Computer Repair Guy, Electronics & Technology Specialist, Piano Player.
A born & bred Canadian, living in Vancouver, British Columbia.
I was born to wonderfully-strict parents, they arrived into Canada as refugees in 1983 from Thailand. My parents, who were only teenagers, already with a child, having no English or education whatsoever, and not much cultural community support when they got here (because there were none), spent their lives working extremely hard for our large family of eight to live a prosperous life here in Canada (and on one income).
Technology, games, and the arts are my passions.
Always a curious one, technology, computers & especially games caught my eye in what they can accomplish, make us feel, and make convenient for us everyday. Even more-so now, with powerful portable devices capable of doing amazing things in our lives, I hope it only gets better!
No argument here, I'm a visual/audio type of guy, and as a grade schooler in Kindergarten, I became a big fan of cartoons & comic books. As time progressed, I would learn from & be inspired by anime, games, manga, and CG/animated films. I would spend tireless hours doodling on homework corners & any empty space margins I could find.
Music can inspire like none other, it vibrates our very core of the beautiful chemistry of sound & rhythm. Eventually, I self-taught myself (not really recommended) how to play the keyboard/piano, and am really enjoying doing improv & learning/picking up interesting melodies & tunes. I have to give credit to video games most of all, for inspiring & motivating me to pursue a path of artistic excellence.
Video games were introduced into my life at the age of five. It really is the single greatest medium that takes in everything I love, art, music, storytelling, role-playing, interaction, and inspires me to become a better game developer & artist.
You can check out my LinkedIn profile here.
Peace outside~!